NEoWave Blog
4/28/2023 - NEoWave Staff
Watch for a Powerful, New Bull Market! (This market shift is great news for Elliott Wave forecasters!)
---

Article written by Glenn Neely
Forecasting & Trading Advisor and Founder of NEoWave Inc.
April 2023
Traders and Forecasters, take note:
There are TWO pieces of good news on the horizon
The US stock market is close to starting a powerful, new Bull market.

This market shift is great news for Elliott Wave forecasters, because we are embarking on a new era of predictability!
As I see it, traders and Elliott Wave forecasters have TWO good reasons to look forward to the future: a possible, powerful new Bull market and a refreshing period of predictability under Wave theory.
For nearly a year, my NEoWave Forecasting services have been getting more and more accurate. What explains the increasing accuracy? This has been the result of many markets approaching the end of large patterns, and this is when forecasting with Wave theory is the easiest, most accurate, and potentially the most profitable.
I have identified certain idiosyncrasies of Wave theory throughout the past 40 years of closely following the markets and conducting Wave analysis. This has led to the following realizations:
Under Wave theory, markets experience periods of predictability and unpredictability.

The closer a market is to the end of a major pattern, the easier it is to predict. Not surprising, periods of predictability are a lot more fun, with more opportunities to make a profit.

Elliott Wave is especially useful for warning you of major turns in a market. Add to this the scientific and logical rules in NEoWave (advanced Elliott Wave), and we can predict price action with greater precision during these timeframes.
Before going any further, let's take a step back in time. In the year 2000, I warned NEoWave customers that forecasting with Wave theory would become increasingly difficult for the next 10 to 15 years as the US stock market moved toward the center of an approximately 30-year correction. I foresaw a long and frustrating period of market unpredictability. Unfortunately, this period of market unpredictability did materialize, as forewarned.
In early 2020, the COVID-19 pandemic struck, and the violent decline it created in the US stock market confirmed the S&P 500 was finally beginning the last leg of this decades-long correction. Then, in November 2021 (about 18 months later), I was able to warn NEoWave customers that the US stock market was bottoming. Most thought I was crazy – and many still do!
A year later, in December 2022, my friend Ike Iossif asked me to share my forecasts and Wave charts on the S&P 500, Gold, Euro, and T-Notes in a recorded interview. I explained that my Wave chart for the S&P showed that we are in the middle of a very large, upward-drifting contracting triangle. (see chart below)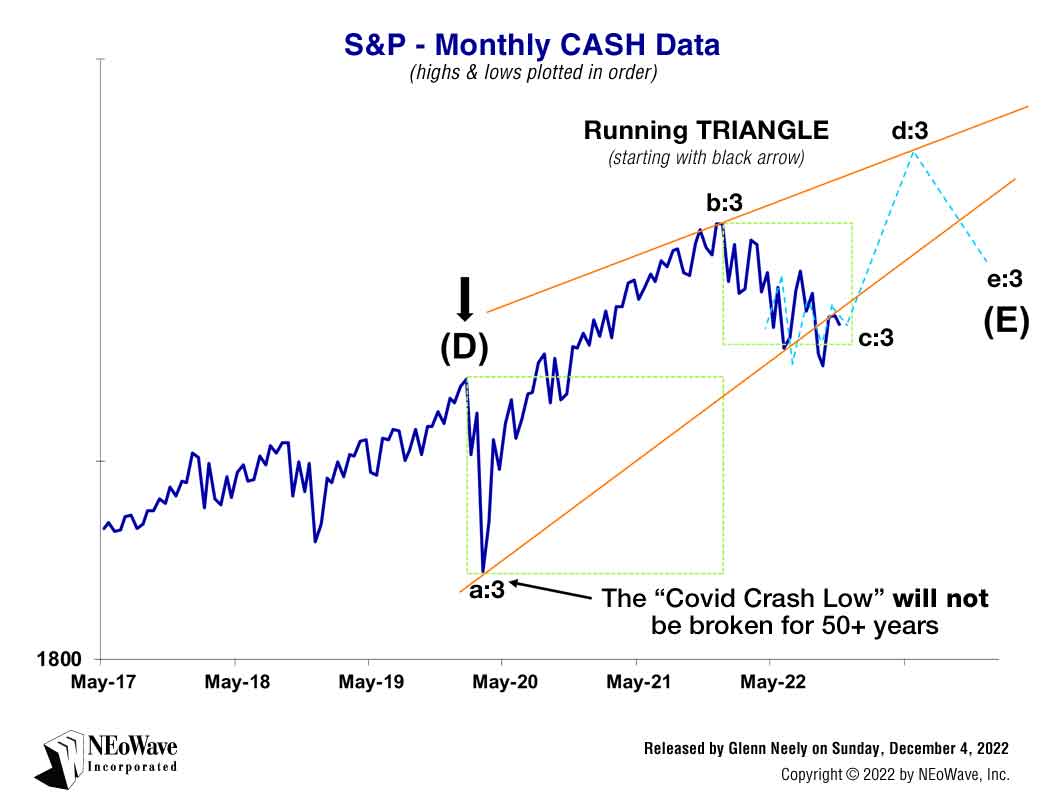 This scenario is super Bullish long term, and most Elliott Wave analysts think this is completely insane!
CLICK HERE to hear this recording and view the 4 charts.
Great news for traders...
Here we are in Spring 2023. Despite a constant stream of "scary" economic, financial, and geopolitical news, NEoWave continues to suggest the S&P 500 is close to starting a new Bull market.
And great news for Elliott Wave forecasters...
The increasing accuracy of my NEoWave Forecasting services gives us empirical evidence that major market changes are in the works. In fact, market predictability has been improving substantially for nearly a year and should continue to improve for the rest of this decade! Clearly, this new era of market predictability can impact your trading success.
Here are 2 examples of major market shifts and how they brought trading success for my NEoWave customers:
In February 2000, on national television, I shared the following forecast: The U.S. stock market was at a major top with the Dow Jones ready to drop 50%, the S&P 60%, and the Nasdaq 70%. Within two years, all those predictions came true. As a result of this on-target Wave forecast, the 2000-2002 Bear market was a VERY profitable period for NEoWave customers.

In mid-January 2008 (right before the start of the Great Recession), I predicted the U.S. stock market was about to embark on its largest, fastest, most devastating decline since 1929. That turned out to be my most accurate, pin-point-precise market forecast of all time! As you would expect, NEoWave customers raked in the profits, again, thanks to this accurate Wave forecast.
Even more good news...
This year's market action is setting the stage for a new era of market predictability, which can directly impact your trading success. Using NEoWave (advanced Elliott Wave), you can predict price action with greater precision than has been possible since I called the 2000-2002 Bear market and the 2008-2009 Great Recession – the two most profitable periods in NEoWave history.
This is an ideal time to learn Elliott Wave theory and advanced NEoWave concepts! Take advantage of the many resources at www.NEoWave.com to improve your Wave analysis and Wave forecasts.
NEoWave's FORECASTING SERVICE:

Learn how to apply advanced NEoWave concepts with Glenn Neely's charts.
With this educational service, you will experience the application of NEoWave to short-term, intermediate-term, and long-term charts for the S&P, Gold, T-Notes or Euro. You'll receive Weekly, Monthly, & 1/2-Yearly Forecasts as well as NEoWave Analysis by Glenn Neely!
To subscribe to Glenn Neely's NEoWave Forecasting Service... CLICK HERE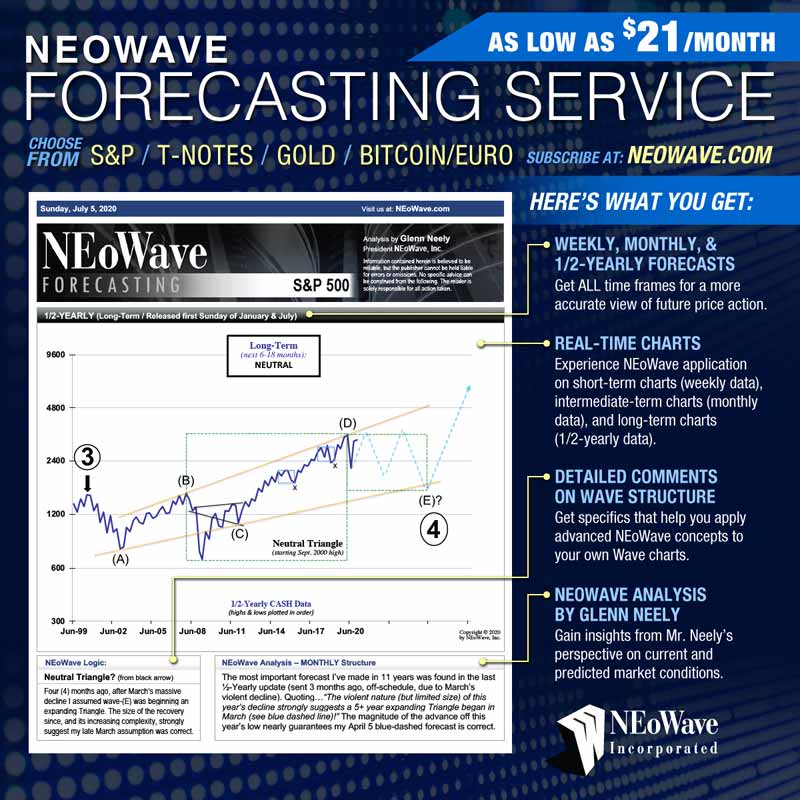 NEoWave's ADVANCED WAVE ANALYSIS COURSE:

Learn to accurately predict markets in real time with Glenn Neely.
If you want to improve your forecasts, this is the best time in decades to learn Elliott Wave and NEoWave concepts in real-time. Take advantage of this exciting forecasting environment!
To learn more about NEoWave's Advanced Wave Analysis course, personally taught by Glenn Neely...
CLICK HERE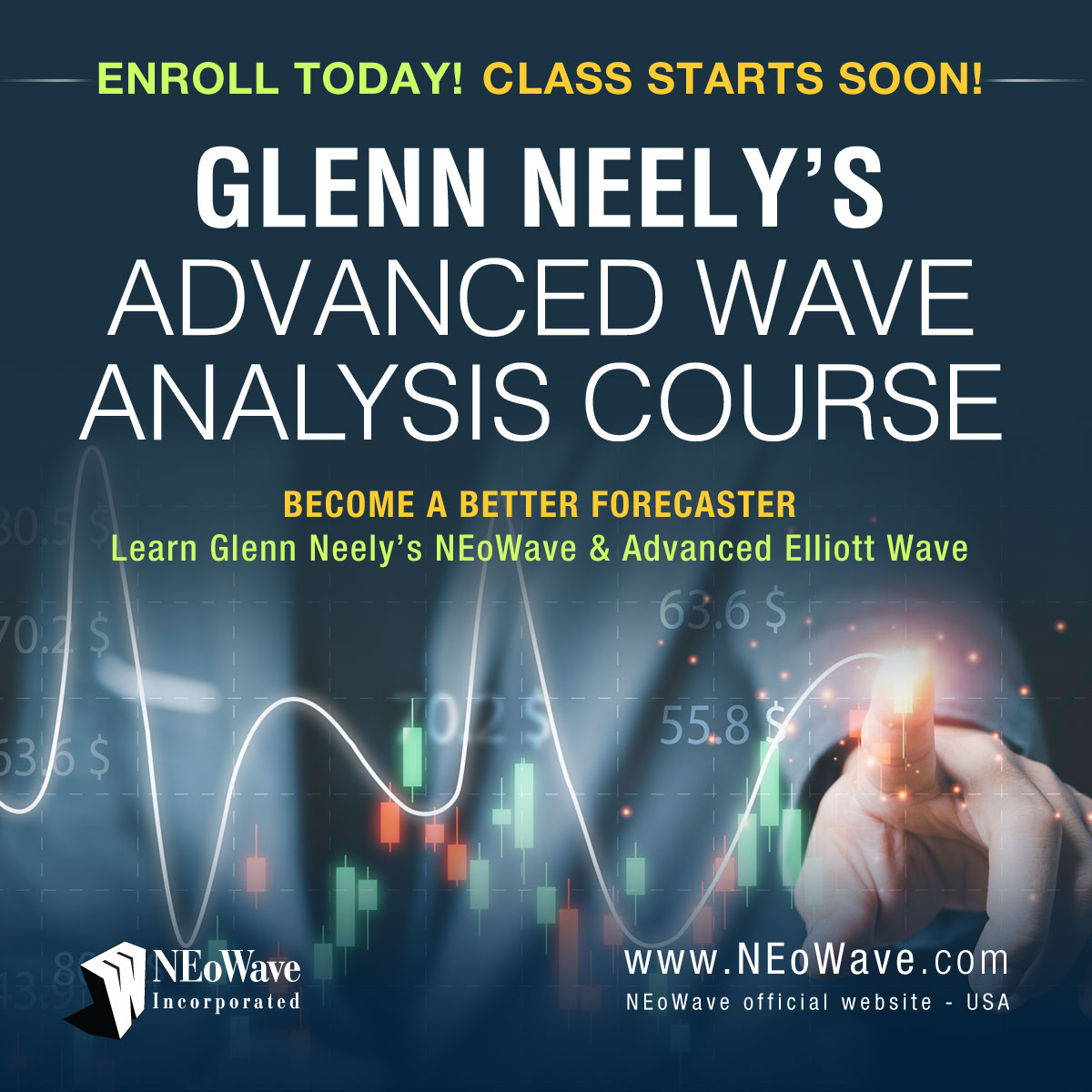 Hear an interview with Glenn Neely

Listen as Mr. Neely shares detailed forecasts with Wave charts.
In this highly informative 14-minute interview with Ike Iossif, Glenn Neely shares detailed forecasts, insights, and Wave charts on 4 markets: the S&P 500, Gold, Euro, and T-Notes. If you are a fan of Elliott Wave forecasting, this is a don't-miss discussion!
To view Glenn Neely's NEoWave Forecasting charts for these 4 markets...
CLICK HERE
---
Connect with Glenn Neely:
https://www.facebook.com/NEoWaveGlennNeely
https://www.linkedin.com/in/glenn-neely
https://www.linkedin.com/company/neowave-inc
https://www.youtube.com/neowaveinc
---
Follow us @NEoWaveTheory:
https://www.facebook.com/NEoWaveTheory
https://twitter.com/NEoWaveTheory
https://www.instagram.com/neowavetheory