MASTERING ELLIOTT WAVE
by NEoWave founder, Glenn Neely
I am writing to express my deep gratitude, appreciation, and admiration for your work on Wave Theory and especially for your book Mastering Elliott Wave. I have read your book innumerable times; I can say with complete confidence that it is the single best resource to understand and analyze the financial markets. It is a true masterpiece – a logician's Mona Lisa – and showcases your logical mind and the immense amount of hard work you put in to pen it. Your logical rules on structure, time, degree, complexity, proportion, and market behavior are simply extraordinary and the work of great genius. It will rank as one of the great books for analysis of financial markets, though in my mind it is the greatest. I have taken your Advanced Wave Analysis course and Neely River Trading course and have experienced the way you look at charts, which has greatly contributed to the way I look at charts. I hope you will continue to devote time for market research and new discoveries. Through your professional services of NEoWave, you are helping a vast population achieve financial freedom.
– Vipul Garg
India
---
Dear Mr. Neely, you have changed my life and my outlook on life, and I am very grateful for that.
– Mohammad Nasab
Iran
---
Mastering Elliott Wave is the best technical analysis book ever written, by a mile! I've read a LOT of books on technical analysis, rarely more than once. Glenn, I've read your book at least a dozen times cover to cover.
– Joshua Goldstein
United States
---
Glenn, I have read more than 2,000 books and articles about the market over the years. Without a doubt your book, Mastering Elliott Wave, was the best I have ever read. I have read it more than 12 times! I think you are a genius who was able to pull a wonderful order out of the irregularities. Reading your book changed my view of financial markets and changed my financial life. I am very interested in logic and your book is full of wonderful logic. I am working on Wave analysis day and night, so I can multiply the accuracy of NEoWave, and I have been somewhat successful. In fact, NEoWave works very accurately in Iran. I am getting dream profits! Thank you for transforming the world of technical analysis.
– Ali Kahyani
Iran
---
Since reading Glenn Neely's book, Mastering Elliott Wave, I have been able to confirm so much more theory and put it into good practice. In fact, respecting 'time' has been one of the biggest aspects of my learnings. His perspective on Wave theory is far superior to what I have read in the past. I only wish I had read it earlier! I enjoyed today's Advanced Wave Analysis class, and I have no issues with the online tutorial as I understand everything he is putting forward. Keep up the great lessons.
– Darren
Australia
---
Mr. Neely, I have been an ardent follower of yours from way back in 1996. Thanks to the concept of Wave theory as you propagated in your book, Mastering Elliott Wave, I was able to call the bottom of the Indian market in 1998 and play the entire bull market to the day of the fall in 2000. I made a small fortune, and it has served me well ever since. As a 'youngster' of only 30 years old and with a newborn baby boy I was able to quit my investment banking job for a quiet life of trading for many years. Today I head an equity research outfit. I am always grateful to you, Mr. Neely.
– Vinit Bolinjkar
India
---
Mr. Neely, your Mastering Elliott Wave book is amazingly detailed and precise. I am in my second week and about to pass Chapter 4. I can't stop appreciating how much time and effort you devoted to making this book happen. Thank you!

– M.J.
United States
---
I have been reading your book and studying your analysis for the last five months. I think you are brilliant. I have compared your analysis to other Elliott Wave experts, and I have found yours to be vastly superior. I know that with your help and insight I will become very good at NEoWave. Thanks again for sharing your knowledge and wisdom.

– Kevin Staner
---
Glenn, the time has come – the villa is finished and I am flying over to move in. I received full citizenship of Europe and am currently a Swiss citizen, with approval of all social benefits. As I look over all the years I have used your NEoWave Forecasting method to predict the market – and your Mastering Elliott Wave book that has guided me, along with your course – I must thank you. Without your guidance, I would never have made the fortune I have.

– J.M.
Monaco
---
I very much appreciate your work. Mastering Elliott Wave is an important book in my technical analysis education.

– Alexander Nikolov
Bulgaria
---
I picked up technical methods after losing half my money in mutual funds run by MBAs who are taught what markets 'should' do rather than what they actually do. A coin flip would have yielded better results. Neely sees what no one else does and like a great genius ties it into a code of rules for wave analysis much more strictly than those before him.

– Eric Noel
Canada
---
Regarding Mastering Elliott Wave, I must compliment you on your achievement. I found chapters 3, 8 and 11 particularly valuable. I started studying Wave Theory about six months ago, and I needed an overall perspective of the wave count of the market. The structures and the formations in your book provided that perspective. Your forecasts and the direction of the market have been rock solid since I subscribed to your service six months ago. Your structures explain the market behavior better than anyone else.

– A.P.
Canada
---
Your book is fantastic. Thanks for all your help.
– Timothy K. Fife
United States
---
I have been studying your Mastering Elliott Wave book since it was published, and I believe it is the most complete technical guide to the stock market.

– Anonymous
---
CUSTOMER REVIEWS
D. Schiarra







Made 6-figures from March to October 2020 using NEoWave (aka, MEW)!
Reviewed in the United States on November 3, 2020

I closed my long trades two weeks ago at a high six-figure profit in both our retirement accounts (tax-free for now) and our family's individual investment accounts.

Though I retired from trading in 2014 and was no longer a subscriber to NEoWave forecasting service, a more advanced form of Mastering Elliott Wave, Mr. Neely was considerate enough to warn his current and past clients in March that the markets may be entering the most treacherous investment environment we've seen in the past 30 years and that I better protect my retirement assets accordingly.

I poured all my cash into the markets at the end of March. Using NEoWave (MEW) in April, he confirmed that a new powerful rally in the S&P had started AND it'll break the then-all time high of February. I poured the rest of available cash to various mutual funds. Last August, the S&P did lurch to new all-time highs, as NEoWave forecast.

While I internalized the teachings of Mastering Elliott Wave, I must say it's dated, though still highly relevant/required in my trading. If I were a beginner, I would actually buy the e-book, absorb as much as I can, and then, take NEoWave's Advanced Elliott Wave course. That would be a billion times quicker to learn how to forecast (I don't say, "learn to trade," here, because forecasting and trading are two different things). I profit from MEW because I'm an experienced trader.

I owe much of my wealth to my first purchase of MEW back in 1991 . There is no better general market forecasting method. It's brilliant. I think it's more brilliant now than even before I retired, because I don't second guess it as I did in the past. Glenn Neely still rocks!

This is the time to learn NEoWave (MEW) because the markets are currently in the most predictable 5-year period of the past 40 years. Glenn Neely hasn't mentioned this yet: What follows in 5 years is also going to be the most predictable stock market bull market of our lives---greater than any bull market we've witnessed or studied before.

You can only forecast (with precision) the stock markets for the rest of your life with NEoWave.

Buy the e-book!
---
Gunther







This is not a novel about some character named "Elliott".....
Reviewed in the United States on July 5, 2013

It IS, however, a major treatise on the Elliott Wave theory, probably the first and only one like this that has ever been written. It is a very good book on a subject that few financial people know - or even care - about, but would or should learn. No, it will not make you a imillion dollars; it WILL help you make better decisions about where a particular stock is going and how soon but it will also take a very long time to digest. This is a book that you read a few pages and then put the book down and spend the next few hours or days digesting what you've read, even going to the charts looking for examples of what you've just read. Robert Prechter wrote a few good books on this subject and this book by Neely is an excellent supplement. I think it's fair to say that books dealing with theories associated with the financial world are very dry and very boring to people who just aren't into the finacial world, and sometimes even more boring to those of us who ARE hooked on the world of finances, securities, and the stock market but be that as it may, if you are deeply into the markets, this is a good one to have on your shelf along side of Robert Prechter's book.
---
Bob







VERY DEEP Read
Reviewed in the United States on October 28, 2018

I would say this book is a great Elliott wave teacher. However, get ready for long concentration hours. It is a deep topic. I am mostly through the book and have reread most of the chapters more than once.
I am glad I got it, as I didn't know enough about Elliott wave theory. I am starting to think I could use the concept now.
Neely does a good job describing the basics needed to understand Elliott Wave Theory.
---
Johnny Rico







For the advanced Elliott Wave User..just what I was looking for.
Reviewed in the United States on September 15, 2020

This book is incredibly deep and as people said needs to be digested in smaller parts since it contains so much information. If you're an Elliot Wave user and looking for more advanced methods this is the book for you. Looking forward to implementing all of the rules from this book into my trading.
---
Duong Vu







Best book on Elliot wave
Reviewed in the United States on March 29, 2019

This is the best book on Elliot wave I ever read. Explains all possible patterns in depth. Provides lots of new concepts of elloit wave I never knew of. Definitely have to read more then once but ever time you read it you understand a lot more.
---
Alexander Chaihorsky







Not a classic, but a secret revealed.
Reviewed in the United States on January 14, 2008

If you want to use Elliott Waves in practical real trading there is nothing else, period. Prechter's book is a very distant second. I emphasize - FOR PRACTICAL TRADING. Otherwise Prechter's book is excellent and is a true classic.

But prepare yourself to read Neely's book many, and I mean MANY times before you start to feel that you GET IT. 9-10 times at least. And that is with paper and pen. But after you GET IT, you feel like you have wings when you look at the price charts.
---
Marius Bless







Very, very deep
Reviewed in the United States on July 29, 2019

If you buy this. Be aware that this is not your typical trading book. This book offers an incredible amount of quality information. If you want to learn the basic of Elliott wave theory, I would not recommend this book.
---
Alex Graham







It's taken a couple of months to understand everything in there.
Reviewed in the United Kingdom on May 8, 2014

Truly mastering elliott wave is a long term commitment, but it's the best book i've come across on the subject. makes frost and prechter look like they're trying to confuse everyone.
---
GK







You should finish this before you trade
Reviewed in the United States on May 16, 2020

It is the pinacle point of Elliott Wave Theory. The best book where you can learn all the aspects of Elliott Wave Theory. It is worth every penny.
---
Tekkiesuresh







A Masterpiece but could be better organized
Reviewed in the United States on November 14, 2012

A superb treatise of practical application of Elliott wave behavior, but one has to do a lot of traveling back and forth for certain rule applications. For example, there is quite a lot of information about different kinds of patterns, but it is scattered across many chapters.Also if Neely had included real life examples of actual markets it would have been even better.The chapter on the first set of rules could have been made a little more user friendly.
All in all, an essential book for every aspiring market technician and theorist alike.
---
Noel W McCarthy







Ahead of its Time
Reviewed in Australia on November 13, 2020

Once you become proficient in traditional Elliott wave theory you begin to understand its deep limitations. This is even more so if you have been trained in the typical way - which is to identify impulses in strongly trending markets and simple three wave corrections in choppy, sideways markets. Once you open Neely's book you can never go back.
---
Lewis Evans







Loads of great knowledge, but hard, hard work!
Reviewed in the United States on June 1, 2007

I read this book a couple of years ago, and found it fascinating and highly detailed. I imagine that for some very technically minded people this is something they can really get their teeth into and enjoy. But for simple folk like me, it was just too much, and I found much simpler methods to interpret Elliott waves that didn't take half as much time or knowledge. So, I give it a 3 star rating as its brilliance is somewhat dampened by its complexity.
---
Xu Yang







CLASSIC NEEDS TO BE READ A THOUSAND TIMES
Reviewed in the United States on August 27, 2008

The only downside of this classic is its size. If the publisher can make it smaller and easier to carry, that'll be even better.

Because this is one of those books which you cant just skim through once or twice. It takes years to master everything it mentioned.

Then you'll be the real master.
---
Universal Love







For serious traders only!
Reviewed in the United States on September 28, 2015

Look no further!
(Note: Material very intellectually challenging, but well worth it!)
---
Rachmad Perdana







Good book
Reviewed in the United States on February 16, 2015

Good book to read. But in my opinion it's a little bit hard to understand especially for one who just started to learn about this Elliott Wave. Still one of the book you should have on this topic.
Testimonials on NEoWave TRADING Service
I made 57% profit November through November. That's in great part thanks to what I learned in the Neely River Trading course, along with my own entry and exit point strategies. A big thank you to Glenn Neely!
– Johan Vogt
Spain
---
Glenn, thank you for teaching us Neely River Trading. Learning NRT has been an enriching experience. I really appreciate you taking time to teach this course and putting in so much effort. I have put in a lot of effort to learn various trading methods, however, nothing comes close to NRT. It's scientific and non-emotional. Thank you once again.
– Milind Gulavani
India
NEoWave TRADING Service –
Only $30/month
powered by NEELY RIVER Trading Technology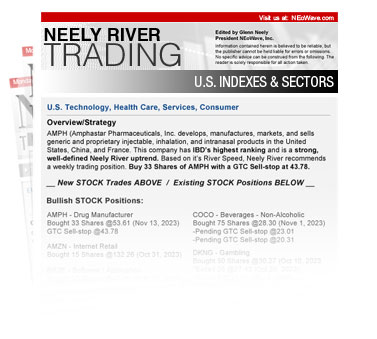 Choose from:
Equities, Commodities, Foregn Markets & Currencies, & Fixed Income
---
I have just completed Glenn Neely's Professional Trading Course and learned how to use his Neely River Trading technology. I have been applying NRT to trading spot FOREX pairs. All my positions are 'in the money'! Soon, I'll go to ETFs on TradeStation!
– Vladislav P.
Bulgaria
---
Since learning Neely River Trading theory with Glenn Neely, my trading has improved massively. Using Neely River, I now trade with less pressure. Also, I'm continuing to learn more about trading Options.
– T.W.
United Kingdom
---
Glenn, thank you for all these years of excellent analytical work! Current markets are providing some spectacular trading opportunities for those who successfully negotiate with a clear mind, and with NEoWave for a roadmap.
– Mark Andrews
United States
---
Glenn, I have spent so much time and money on the 'best trading and techniques' through so many places it was hard to figure out if you truly were different or just another company that wanted my money. Plus, I was not sure I was going to be able to stick with your approach. However, I would like to thank you. I have not been around many people in this industry who truly care about the people they instruct. Neely River Theory has had a huge impact on my portfolio's performance. I am now managing money with a confidence I never had before.
– James W. Vassas Jr., Financial Planner
United States
---
Glenn, your service is fantastic and, given the volatile nature of the markets, your voice is a beacon in the storm.
– S&P 500 Trader
United States
---
My trading is based on Neely River Theory. This year I will end with a 50% return.
– Manish Kanodia
India
---
Neely River Theory has given me a whole new perspective to go about trading. It has really helped me to manage positions and manage risk, which had been an altogether tumultuous experience based on emotions.
– Abhijeet Durge
India
---
Mr. Neely, your trading call in late March 2020 was right on the money. This was one of the best calls I have seen in my market experience of 20 years. When the rest of the world was frozen and in a state of total panic, you gave that bold call. Sheer genius.
– Nithin Pai
India
---
Neely River Trading is the best logical trading approach. I'm glad I traveled to Australia to meet you and learn this revolutionary concept. I'm using both NEoWave and Neely River, and my trading success rate has increased dramatically.
– Bozhidar Yankov
Bulgaria
---
I have been using Neely River Trading, and the results have been amazing. The losses/drawdowns have become less in both number and value, and the profits are inching up. Thanks again.
– Manish Bahl
India
---
I've done some trading using your Neely River Trading software program, and it's been fantastic. I've made trades I never would have normally made, and I have made money, thanks to you. I have a trading tool that gives me a great deal of confidence in the market.
– Mark Gibbs
Australia
---
Another great call on the S&P. I absolutely LOVE your Neely River Trading when used in the context of NEoWave. It can't (and won't) get any better than that!
– Magdy S. Maximos
United States
---
I have been monitoring and following the markets closely, and I love the Neely River Trading software program! What a pleasure to use! Light years ahead of doing everything manually.
– Ian Bright
New Zealand
---
I have made a return of 17% (52% annualized) in just four months using Neely River Theory. Prior to using NRT, in the first six months I was up 30%, then lost all these gains and went back to break even. I then took a break of two months and started trading again and clocked the above return – all thanks to Glenn Neely's guidance in using NRT. Following Mr. Neely's advice, I now log all my trades, so I know how many trades I made, when the trades were executed and when exited, which trends were profitable, as well as other parameters. Thank you for everything.
– Manish Kanodia
India
---
Great and transparent communication, Glenn. What I love about your approach to markets is your greater emphasis on making money than on being right. While being right is important and the primary objective of most forecasters, your emphasis on successful trading and making money is actually what makes you a world-class forecaster as well.
– B.H.
United States
---
Thank you for providing a high-quality service for your subscribers. Your concise recommendations cut through the noise. That is a big help to anyone who trades for a living.
– Joshua Baer
United States
---
I've subscribed for about a year, and your trading service has been the source of my two most profitable trades ever. They had such a positive impact on my account, I can retire sooner - this during a period when most people are having to push back their retirement date!
– Eric H.
United States
---
Glenn, I have followed you for over 29 years. Initially, I disagreed with your assumptions but discovered that I was wrong and you were right. More important, I have made money.
– Alan Burman
Isle of Man
---
You provide an excellent service. And you're helping me reach my financial goals.
– Paul Campbell
United States
---
I've been trading for many years, and the techniques I've used in the past are not working in the current market. Thanks for helping us navigate the extreme market conditions we are having.
– Brian
United States
---
I remain amazed at your analysis during this historic bear market. Keep up the tremendous work.
– Dave Primeau
United States
---
You have a track record that's hard to beat. And I've known you for 21 years.
– Michael Finberg
United States
---
Glenn, you have done well with the gold buy in the 740s and now the S&P decline. If this is indeed the start of a massive decline [summer 2008], you will have done your subscribers a great service in getting them out of the market.
– D.L.
Australia
---
Mr. Neely, I can't begin to tell you what an impact you have made on my life and my family's wellbeing. I subscribed to your service in July. In just 3 months I have more than tripled my brokerage account and almost tripled my 401(k). I have paid off my 2 houses and am completely debt free. I am so grateful for your unbelievable dedication to your work and clients. Your timing and price projections are uncanny. It is amazing that you call these markets with such accuracy -- and unemotionally. I live an almost stress-free trading lifestyle now. Thank you so much.
– Joseph Godbout
United States
---
Thank you so much! I used to get the intra-day trading from [another Elliott Wave company], but the focus was on the technicalities of the wave and not on good entry or exit points, or fib ratios, etc. It's of no use to me as a trader without the translation to market realities. I love the clarity of your updates. Keep up the great work!
– Dr. Barbara Massette
United States
---
It is indisputable that your method keeps me on the right side of the market 80 percent of the time.
– Eric Noel
Canada
---
I absolutely marvel at your ability to navigate the markets with your chart and trading services. I find it extremely interesting to follow, read and study your methods.
– Magdy S. Maximos
United States
---
Through your book, Mastering Elliott Wave, and your trading course, you have been my guru. Your trading course is unique and immensely valuable. Your techniques are based on solid reasoning, which enables a trader to be right on the button. My trading success rate has increased dramatically. Applying your methodology lets me feel comfortable while in a trade. Right selection of a trade with a timely entry and exit is the key to successful trading. Your course has provided me with this key.
– Mushtaq Khair
India
---
I've been your customer since January 2009, and I like the service very much. My trading results have improved dramatically thanks to this valuable information!
– OP
Bulgaria
---
I am very impressed by your ability to manage risk. That is what it is all about. Lowering your stops recently on the S&P trades to lock in 20 and 30 points of profit is a perfect example of this. The call you made in early March of 'an explosive rise dead ahead in the S&P of 100-150 points,' prior to the March 6 intra-day low is the single best call I have ever witnessed.
– Tom Phillips
Canada
---
I understand the right money management approach by simply following your trading product. Your updates reflect the way you think as a trader - not just technical entry and exit levels. Plus, your approach broadens my perspective of the market. Every word you say is enlightening as I find your approach quite revolutionary!
– Anoop Dewan
India
---
I've been a subscriber for a short while and have already gained quite a bit of knowledge from your trading style. I subscribe to several newsletters, but almost exclusively trade based on yours. I have learned a great deal from your entry and money-management techniques, which reduce and limit risk. I am grateful to have such a competent advisor during this historic and fascinating market.
– Paul H.
United States
---
Well done with your trading service. I have made more money this month than ever before. Your predictions have been spot on. I use them in conjunction with my indicators and it's been great, especially in these times of high volatility.
– Paul D.
Australia
---
Your sincere effort to help us to preserve our capital has been much appreciated by all readers.
– L.C.
Hong Kong
---
Thanks for the great trades you provide on your S&P trading service. I use the hourly trades - and I am smiling!
– Grant Crawford
Australia
---
"I owe you a debt of gratitude because I was a subscriber in November when you were calling for a massive sell-off. I got scared and dumped all my equity holdings. Thank you for that great call.
– George Schluger
United States
---
I own my own company, and I use your updates for more than just trading. I have been able to guide my company during these tough times.
– Joe Nelson
United States
---
Kudos on a great trading week - the timing was perfect. We're cruising around Italy on a luxury cruise line, and I have half the short still riding with a close stop. What I took from the table with the other half more than paid for our cruise, even as we considered whether we could really afford it with two kids in college.
– Steve Walsh
United States
---
Thank you for attending to the emergency updates during this crisis! While I love the regular trading updates, I can't think of anything else I would want you to be doing than helping us watch out for market whiplash! I appreciate your excellent work in Wave analysis.
– Dr. Barbara Massette, LCPC
United States
---
Thank you for teaching me so much. Trading is stress-free. Everything is working on auto pilot. Entries and exits are being taken across all my portfolios without any emotions and prediction. Neely River Trading combined with NEoWave Forecasting is a lethal combo.
– Manish Bahl
India
Testimonials on NEoWave FORECASTING Service
During the Advanced Wave Analysis course, I easily saved more than the cost of the course. In viewing the wave projections, this acted as a caution against being foolish and buying puts or calls that were contrary to a new trend that was imminent. Glenn Neely's chart analyses were very clear, since they were rule-based and followed logical choices. A very enjoyable course!
– Ron Ellis
USA
---
NEoWave is the best forecasting theory I have ever had for the stock market. Glenn has continuously developed Elliott wave theory in such a manner that you will find every single time the wave theory to be correct. I must say, if R.N. Elliott were alive, he would be doing exactly what Glenn is doing. Glenn expressed what the scientific approach means in the stock market. While listening to Glenn talk about NEoWave theory, it gave me goosebumps exactly like when I am reading Einstein and theories like space-time and relativity.
– Ramandeep Singh
India
NEoWave FORECASTING Service –
Only $21/month
Forecasting by NEoWave founder GLENN NEELY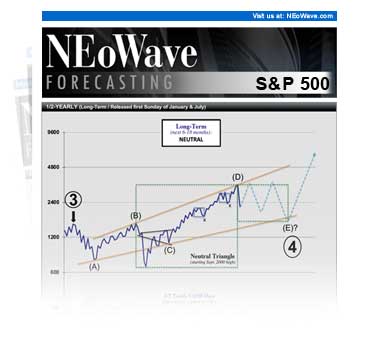 Choose from:
S&P 500, GOLD, T-NOTES, and EURO
---
Mr. Neely, your hard work and dedication have benefited me a lot. I am following your work very closely, for there is a lot to learn, absorb, and apply. Only with patience and being consistent can I accomplish learning, so I can apply it well. Your advice about simplifying complex price movement is phenomenal and a game changer. What I am trying to say is that NEOWAVE ROCKS! Thank you. You are a guide to many retail traders like myself, and your work is legendary.
– Hussain Tayab
India
---
Mr. Neely, I am proud to be your loyal student for 25 years. The mathematical description of Time and Price structures and the ability to count Waves delivered the highest reward in Futures day trading and monthly Options positions in ETFs and Stocks, with a 96% win rate in particular. I depend on NEoWave Forecasting services for my intellectual and scientific exercise and financial freedom and would like to express my sincere thanks and gratitude.
– Dr. Raja Desingus
United States
---
Glenn, the time has come – the villa is finished and I am flying over to move in. I received full citizenship of Europe and am currently a Swiss citizen, with approval of all social benefits. As I look over all the years I have used your NEoWave Forecasting method to predict the market – and your Mastering Elliott Wave book that has guided me, along with your course – I must thank you. Without your guidance, I would never have made the fortune I have.
– J.M.
Monaco
---
I have been very impressed with your calls of major turns, which have been in opposition to many (if not nearly all) other forecasters. That takes courage, a lot of courage. Few market forecasters come out with clear forecasts. Usually they hedge their bets, like weather forecasters in the old days: 'It may rain today, but it may not.' Before meeting you in Sydney and reading about your interpretation of Elliott Wave Theory, I was a great skeptic of Elliott. One could get interpretations that were diametrically opposed! You've saved the bacon for Elliott as far as I'm concerned.
– Hans-Peter Gassner
Australia
---
I was with an Elliott Wave competitor, but I cancelled that subscription. Their forecasts were constantly changing from bullish to bearish - almost daily - and this was whipsawing my account. There was always an alternate count or scenario (usually the exact opposite of the original forecast), which was used if the first assumed count did not pan out. I'm glad to know NEoWave doesn't offer alternate scenarios. I am new to the NEoWave service, recently purchased Glenn's book, and I have started going through it.
– Eric R.
United States
---
Thank you for sharing valuable market forecasts. Your forecasts have been exceptional over these last 20+ years. You are a treasure to us old guys - I've been trading for 52 years.
– Don T.
United States
---
Thank you for your excellent analysis on the markets! Your T-Note work has earned me a lot of money.
– Mark Andrews
United States
---
Thanks for keeping your clients up to speed with this dynamic situation. Much appreciated!
– Alan Veitch
Australia
---
Thank you for the guidance in your emergency updates during this tough but obviously opportunistic period.
– David Kiash
United States
---
You are simply a genius. Hats off to you.
– Abhay Singh
United States
---
Glenn, you've made some nice calls on the S&P and Gold recently. Thank you, much appreciated. I'm looking forward to observing Neely River on wheat and soy in an intraday environment.
– Alistair Mills
Australia
---
I absolutely marvel at your ability to navigate the markets with your chart and trading services. I find it extremely interesting to follow, read and study your methods.
– Magdy S. Maximos
United States
---
My efforts are on to promote NEoWave so much that the legend himself - Glenn Neely - is compelled to present his seminars in New Delhi and Mumbai. I recommend subscribing to his amazing forecasting newsletter on Gold.
– Anoop Dewan
India
---
Glenn, I am a subscriber and really enjoy your work. I am from the regular Elliott Wave school, which lacks much compared to your methodology. Keep up the great work.
– Chris Gfeller
United States
---
Congratulations on so many correct market calls. The Public Notices are wonderful and a great service.
– Stuart Crolfer
United States
---
Glenn, I congratulate you for your laser-sharp predictions on the fall of financial institutions and the Dow. It is amazing to see how your predictions are coming true.
– Gaurav Dua
India
---
Thanks for your close monitoring of the markets. Your efforts are much appreciated.
– Barbara S.
Australia
---
Your forecasts are incredibly impressive. I'm astounded by their accuracy and foresight.
– Peter Davis
United States
---
Your service is the best, and your dedication is remarkable.
– Carl Larson
United States
---
Your analysis is amazing. For people like me who rely on your analysis, what would we do if you ever retire?
– Samson Hui
Canada
---
Wave analysis has made me a world-class investor, and I have you to thank for a great deal of my success and knowledge!
– Gary Lampman
United States
---
It is truly an honor to have you as a mentor. Once again, I can't believe how accurate your NEoWave prediction has been. Wow! And I won't even mention your current blockbuster trades in Gold. Amazing!
– Magdy S. Maximos
United States
---
Your forecast of the market direction was rock solid. Your structures better explain the market behaviour than anybody else. Thanks again for answering my questions and for the service you offer.
– A.P.
Canada
---
I spent the weekend going over hourly charts from the most violent parts of the bear market. It's incredible how even hourly charts allow you to catch massive parts of the moves with almost no risk.
– Eric
---
I loathe the 'cherry pickers' (unnamed, but famous) who publish a horde of charts and later point out the few that were prophetic. Somehow the charts that miss the mark are never seen again. Glenn, you do consistent, same-chart updates. While others in your business spend time marketing promises, you deliver the goods. I am in fat double-digit gains for this year and last. I was schooled in 'traditional' Elliott Wave - 20 years of bad habits - and initially doubted your analysis, but no more. Glenn, you are the Brett Farve of forecasting.
– Carl Larson
United States
---
Glenn, I have known you for 20 years. No one comes close to you in market prediction and market understanding.
– Michael Finberg
United States
---
Your July report hit it right on the head. You suggested an economic meltdown, and we approached it last week! Your calls have been brilliant! Keep up the good work.
– Dr. Jeff Horovitz
Director, Cycles Research Institute, Inc.
United States
---
Your predictions of the direction of the S&P over the last few months have been incredibly accurate. I'm glad to say I have followed them all. Thank you.
– Richard Johnson
Switzerland
---
I've had the pleasure to watch Mr. Neely for over 20 years. He was on the button then and still is. My wife and I want to thank him for sharing his knowledge and wisdom. We appreciate his incredible due diligence and old-fashioned, take-care-of-business attitude. Thanks a million!
– Bill and Sandy Bounds
United States
---
Thanks for your perspective. I've known you for 20 years and you are the best and my most admired analyst/technician. Your insights and visions are clear and based on sound fundamentals and logic - and are always so accurate. I'd say your batting average is close to 800 compared to an industry where 400 is the average.
– Tim West
United States
---
I think you are a genius when it comes to wave counts. I've been a very successful investor using Elliott, and a lot of my knowledge comes from you. I apply Elliott to small cap stocks and have made a fortune.
– Gary Lampman
United States
---
Don't bother about the skeptical 'gurus.' I highly appreciate your work, just keep it up!
– Zoltan Vass, Chairman
Trading Post Financial Services Inc.
Canada
---
I was listening to an audio update you gave in 2004 about your views on the markets. You are clearly one-of-a-kind (genius material?), so I pay lots of attention to what you say! I'm glad to have studied with you. I see that the other Wave analyst turned bullish - his methodology is very simple and straightforward, so it's easy to see what he is thinking.
– A.A.
United States
---
For the first time in 5+ years of studying Elliott Wave I have been able to get working counts on just about anything. Reading your book and your questions of the week - as well as reviewing some of your archived stuff - were the catalysts. I'm 24 and appreciate getting your material at such an early stage in my learning.
– Matt Hilliard
United States
---
Watching you apply your original/unique/brilliant NEoWave theory (with your River channels) to the markets is miraculous. I have researched thousands of books on the markets. Nothing comes close! You are, BY FAR, the best market analyst known to me.
– Magdy S. Maximos
United States
---
To stand on your shoulders, so to speak, has accelerated my understanding. In all honesty, had I been in your shoes I may have been more selfish with the knowledge.
– Matt Hilliard
United States
---
I truly admire you and your work. I can hardly imagine the dedication and passion you must have had in order to create it. Thank you!
– Mihai Lupu
Romania
---
Thank you for your arduous and time-consuming work to help millions of people. You are way better than your competitors because you are honest and smarter.
– Robert Kelly
United Kingdom and United States
---
Here are revelations from taking your class: Elliott Wave is so primitive, NEoWave is scientific. In NEoWave we mainly focus on behavior of waves, not just structure. But if you start with EW, it is hard to shift to the new concept. Now I am more confident with Wave theory.
– Meftun Tayan
Turkey
---
I applaud your perseverance and absolutely accurate description of the stock market since the 2003 low. It seems fitting that you are the person who discovered the Diametric formation. It is your excellent description of the effect that has navigated the investment and trading community through its crooked pathway. So, for these reasons and the others that enable you to comprehend the difficulties of markets that are indecipherable to the rest of us, I thank you for your great research.
– Michael Robb