NEoWave Blog
4/21/2023 - NEoWave Staff
FREE OFFERS to improve your Elliott Wave analysis and forecasting
Do you want to improve your Wave analysis and Wave forecasts? If so, don't miss these 2 free offers!
In his breakthrough book,
Mastering Elliott Wave
, Glenn Neely introduced a comprehensive and more accurate method to conduct Wave analysis. Step-by-step, this classic book presents the most logical, objective, and scientific approach to Wave forecasting ever created. Here's what one reader says:
"Mr. Neely, your Mastering Elliott Wave book is amazingly detailed and precise. I am in my second week and about to pass Chapter 4. I can't stop appreciating how much time and effort you devoted to making this book happen. Thank you!" M.J., United States
To deepen your understanding of Elliott Wave, take advantage of these amazing offers:
FREE OFFER #1:
Get a free copy of Chapter 1, Mastering Elliott Wave
Read a complimentary copy of Chapter 1 of Glenn Neely's classic book. Chapter 1 is the elementary discussion of "What is Elliott Wave Theory", which is the foundation to Glenn Neely's advanced Elliott Wave concepts which is now known as NEoWave.
Download Chapter 1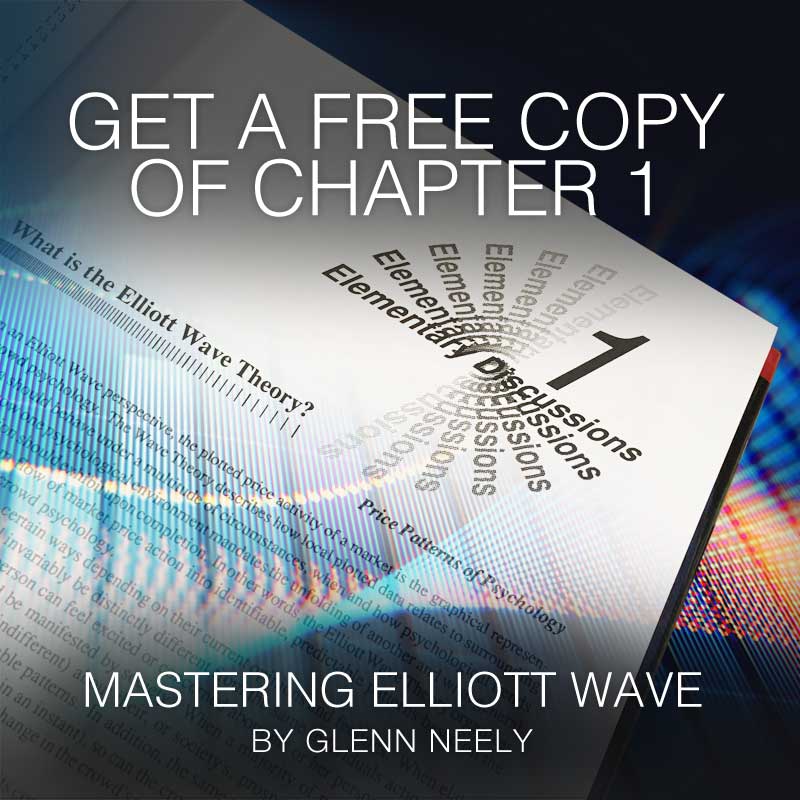 FREE OFFER #2:
Get a free recording of Mr. Neely discussing Chapter 1
Watch a free recording of an actual class in which Glenn Neely discusses the Wave concepts he presents in Chapter 1 of Mastering Elliott Wave. This recording of Chapter 1, Week 1, in a 12-week course, where Glenn Neely discusses his book in-depth, chapter-by-chapter.
Get Free Recording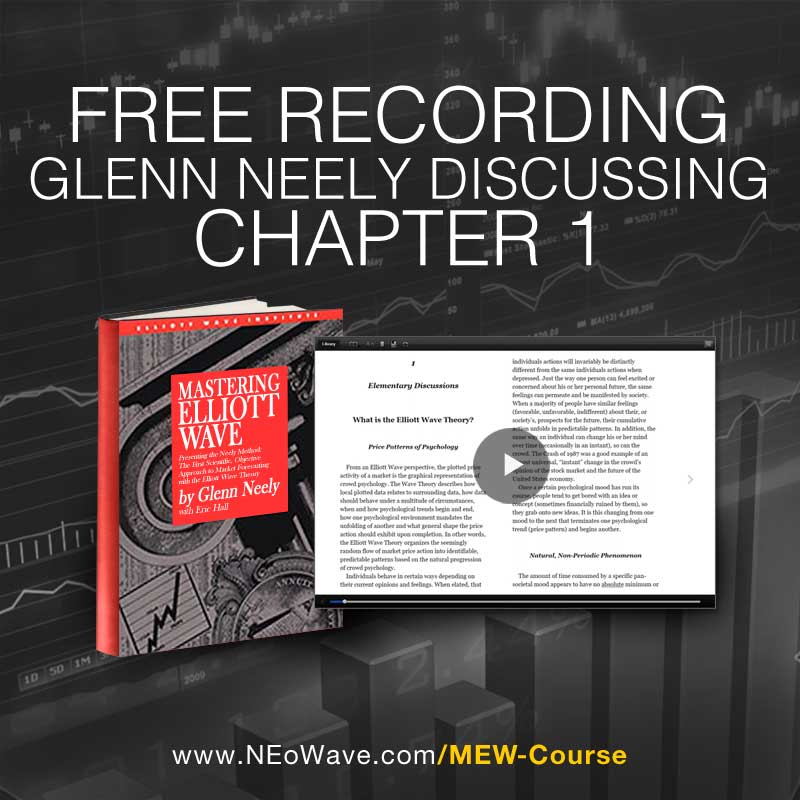 WANT TO LEARN MORE?
Get the 12-part Mastering Elliott Wave video course, for only $59
After you sign up for the Chapter 1 video recording, you'll get purchasing details for the 12-part course. In the video course, Mr. Neely discusses his book chapter by chapter. You'll find his review incredibly informative and insightful!
Get Started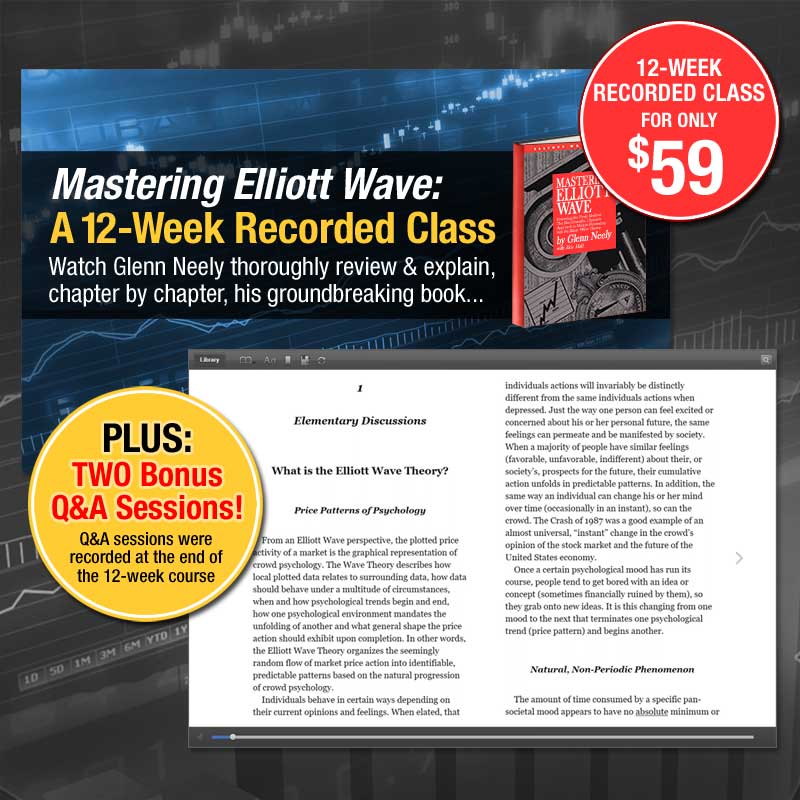 WANT TO PURCHASE THIS BREAKTHROUGH BOOK?
Here's how...
Glenn Neely's classic book,
Mastering Elliott Wave
, is available on Amazon (hardcover & Kindle), Barnes & Noble (hardcover & Nook), and Apple Books (digital).
View Purchase Options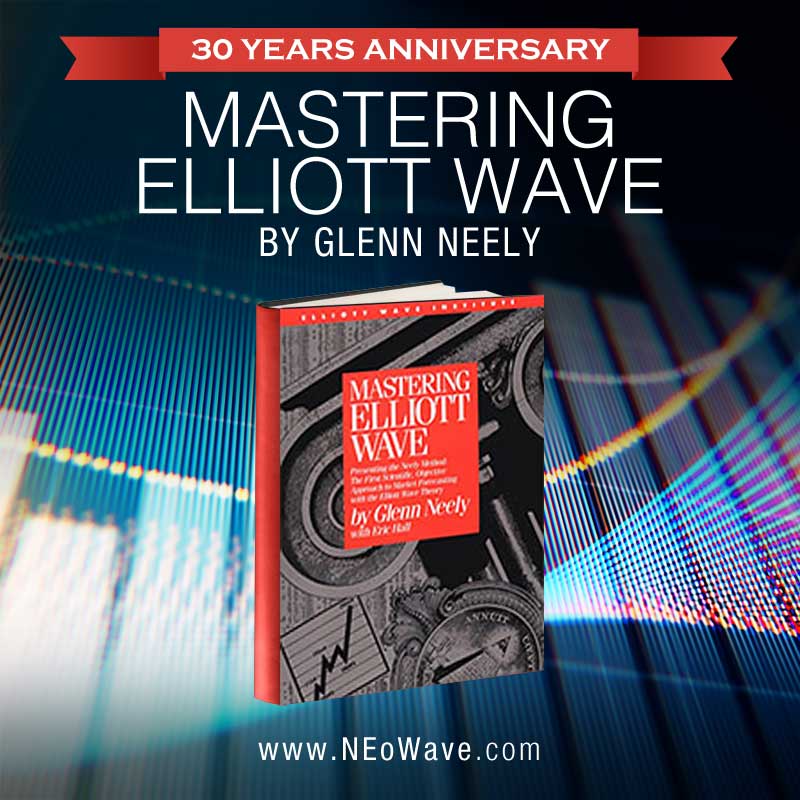 Reviews of the book Mastering Elliott Wave:





Made 6-figures from March to October 2020 using NEoWave (aka, MEW)!
Reviewed on November 2020
Though I retired from trading in 2014 and was no longer a subscriber to NEoWave forecasting service, a more advanced form of Mastering Elliott Wave, Mr. Neely was considerate enough to warn his current and past clients in March that the markets may be entering the most treacherous investment environment we've seen in the past 30 years and that I better protect my retirement assets accordingly.
I poured all my cash into the markets at the end of March. Using NEoWave (MEW) in April, he confirmed that a new powerful rally in the S&P had started AND it'll break the then-all time high of February. I poured the rest of available cash to various mutual funds. Last August, the S&P did lurch to new all-time highs, as NEoWave forecast.
- D.Sciarra





This is not a novel about some character named "Elliott".....
Reviewd on July 2013
It IS, however, a major treatise on the Elliott Wave theory, probably the first and only one like this that has ever been written. It is a very good book on a subject that few financial people know - or even care - about, but would or should learn. No, it will not make you a imillion dollars; it WILL help you make better decisions about where a particular stock is going and how soon but it will also take a very long time to digest. This is a book that you read a few pages and then put the book down and spend the next few hours or days digesting what you've read, even going to the charts looking for examples of what you've just read. Robert Prechter wrote a few good books on this subject and this book by Neely is an excellent supplement. I think it's fair to say that books dealing with theories associated with the financial world are very dry and very boring to people who just aren't into the finacial world, and sometimes even more boring to those of us who ARE hooked on the world of finances, securities, and the stock market but be that as it may, if you are deeply into the markets, this is a good one to have on your shelf along side of Robert Prechter's book.
- Gunther





Best book on Elliott wave
Reviewed on March 2019
This is the best book on Elliot wave I ever read. Explains all possible patterns in depth. Provides lots of new concepts of elloit wave I never knew of. Definitely have to read more then once but ever time you read it you understand a lot more.
- Duong Vu





Ahead of its Time
Reviewed on November 2020
Once you become proficient in traditional Elliott wave theory you begin to understand its deep limitations. This is even more so if you have been trained in the typical way - which is to identify impulses in strongly trending markets and simple three wave corrections in choppy, sideways markets. Once you open Neely's book you can never go back.
- Noel W McCarthy
READ MORE REVIEWS ON AMAZON
---
Connect with Glenn Neely:
https://www.facebook.com/NEoWaveGlennNeely
https://www.linkedin.com/in/glenn-neely
---
Follow us @NEoWaveTheory:
https://www.facebook.com/NEoWaveTheory
https://twitter.com/NEoWaveTheory
https://www.instagram.com/neowavetheory
https://www.linkedin.com/company/neowave-inc