From the desk of Glenn Neely:
As Predicted, the U.S. Stock Market Continues to Rally
Last November, I warned the U.S. stock market was bottoming (see chart below), most thought I was crazy - many still do!
Despite a constant stream of "scary" economic, financial and geopolitical news, NEoWave continues to suggest the S&P 500 is close to starting a new bull market.
The accuracy of my NEoWave Forecasting services (the last year) has been the result of many markets approaching the end of large patterns - that is when forecasting with Wave theory is the easiest, most accurate and potentially the most profitable.
TAKE ADVANTAGE OF THIS ONCE IN A DECADE ENVIRONMENT - LEARN TO ACCURATELY PREDICT MARKETS IN REAL TIME
New Classes start Wednesday, May 24th at 19:00 Pacific.
Spots are filing up - don't miss your chance to join.
Learn more about my Advanced Wave Analysis course at:
https://www.neowave.com/AWA-COURSE
SPECIAL BONUS:
ON THE FORECASTING COURSE THAT STARTS MAY 24, 2023
Get FREE FORECASTING service (in all markets) for 1 MONTH ($84 value) when you enroll in the course. To get this special bonus, YOU MUST email Magelan for details and to determine your qualification: Magelan@NEoWave.com
Sincerely,
Glenn Neely
NEoWave, Inc.
Released Sunday, November 6, 2022
NEoWave FORECASTING on S&P 500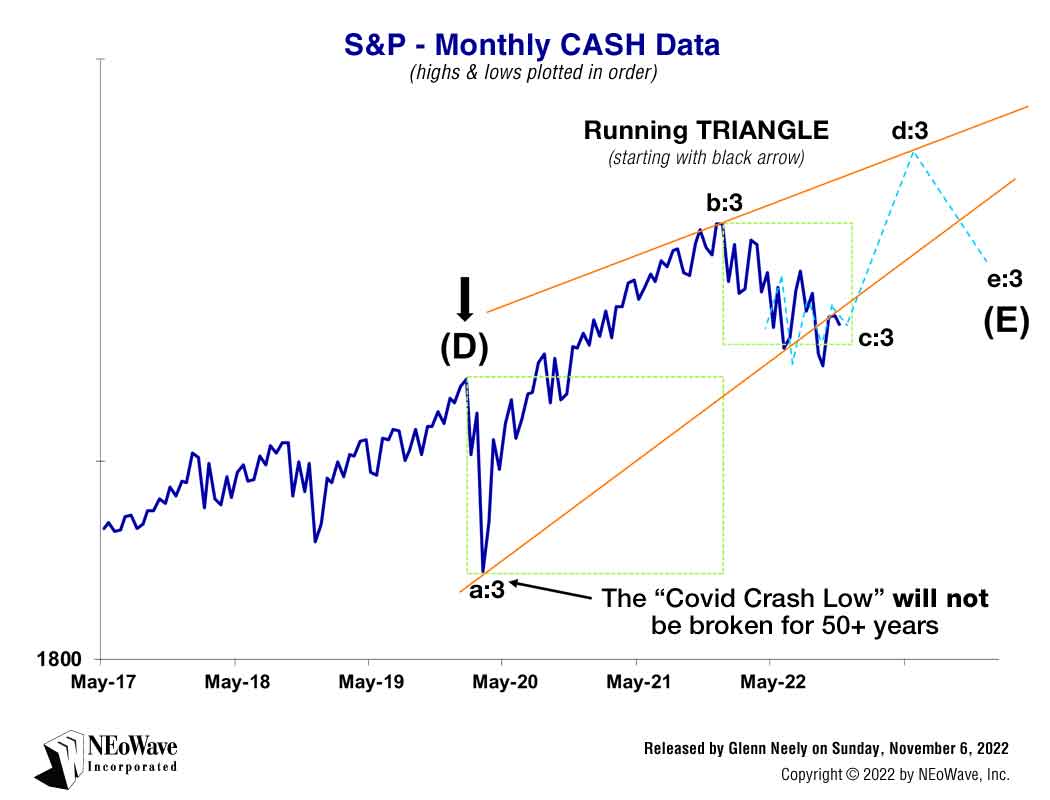 Released by Glenn Neely on Sunday, November 6, 2022.
NEoWave Logic:
Contracting Triangle
(from black arrow)
The firest green box measures the price of wave-a and the combined times of a & b. The seond green box is 61.8% of wave-a's price and half the total time of waves-a & b. IF a contracting Triangle is forming, wave-c will end soon above the low made in October.
NEoWave Analysis - WEEKLY Structure
As long as October's low is not broken, this contracting Triangle will remain our best choice. If correct, this bear market (unfolding all year) will end by or before late January. Afterward, a strong rally to all-time new highs will occur into mid or late 2023. On the other hand, if this October's low in broken, a final "scary, news driven" price collapse will take place into early 2023, which will then be followed a major advance.
---
For the latest NEoWave Forecasting on S&P 500
SUBSCRIBE TODAY