From the desk of Glenn Neely:
The Bear market of the last 13 months will soon end.
According to NEoWave, the Bear Market of the last 13 months will soon end.
(I've been warning about this for 3 months in our Forecasting service - see attached chart BELOW from November 14, 2022).

To profit from the new bullish environment, an entirely different trading approach will be required.

You can learn this different approach to trading in the NEELY RIVER Professional Trading course that I teach. You will learn how to transition from a bearish to bullish market environment. Specifically, during your 1-hour-per-week course, you will learn:
How to objectively select stocks worth investing in. (Most stocks are a waste of time.)
How to objectively time entries to get the best risk/reward ratio.
How to objectively manage profits and losses to exit losers quickly and hold onto your winners.
How to implement Option strategies to leverage your returns without increasing your risk exposure.
How to remove emotion from the trading process to reduce stress and increase returns.
Learn more about my NEELY RIVER Professional Trading course at:
https://www.neowave.com/NRT-COURSE
SPECIAL OFFER:
ON TRADING CLASS STARTING MARCH 2023
At the END of the 3-Month course, download our proprietary Neely River Trading software to use FREE for 3-months!

BONUS: Register and pay early, and get ALL NEoWave TRADING and FORECASTING services FREE until your class starts in March 2023.

To find out more about the course, special offer, or enrollment, simply email Magelan for details at: Magelan@NEoWave.com
Sincerely,
Glenn Neely
NEoWave, Inc.
Released Monday, November 14, 2022
NEoWave FORECASTING on S&P 500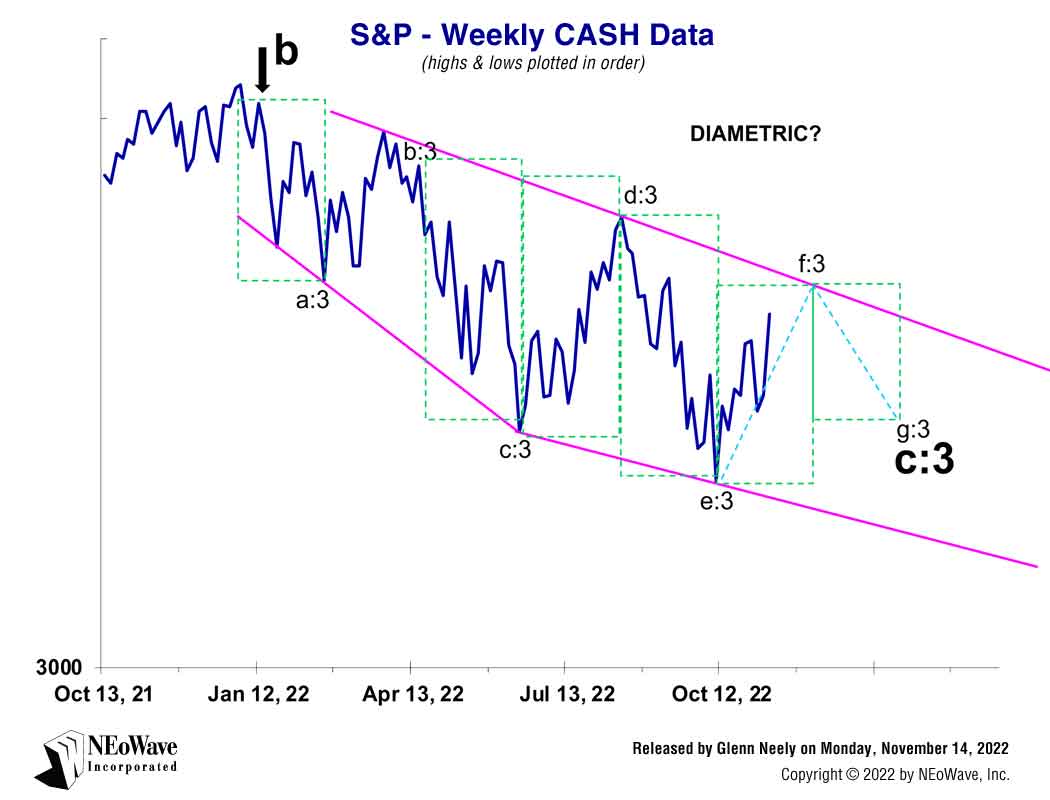 Released by Glenn Neely on Monday, November 14, 2022.
NEoWave Logic:
NEoWave Diametric?
(from black arrow)
Last week's strong rally alters the structural position and potential of the S&P. Starting at this year's high, we now have 4 wave segments that take nearly the same amount of time. That is a phenomenon only allowed in NEoWave Diametrics and Symmetricals.
NEoWave Analysis - WEEKLY Structure
Based on the observations in the NEoWave Logic section at left, I've adjusted the prior structure of large wave-C:3 from a Triangle to a Diametric. This allows the S&P to "meander" for another 1-2 months before a serious buying opportunity could unfold. While wave-f does not need to take the same amount of time as wave-e, the odds are good it will be close. Wave-g should also last a similar time as wave-e.
---
For the latest NEoWave Forecasting on S&P 500
SUBSCRIBE TODAY