NEoWave Blog
4/17/2020 - NEoWave Staff
WHERE IS THE MARKET HEADING? Glenn Neely is BULLISH! (See his forecast)
We are sharing Glenn Neely's Monthly S&P Forecast and Long-Term S&P Forecast, released to NEoWave Forecasting service subscribers on April 5, 2020.
Glenn Neely says,
"This is my MOST important forecast and market update in 12 years. In fact, this could turn out to be my most important prediction since the predicted crash in 2008-09."
Are you concerned about successful trading and Wave forecasting in this historic environment due to the coronavirus pandemic?
Take a moment to study these forecasting charts. You'll see Glenn Neely's BULLISH outlook and how well it has gone so far!
NEoWave's Glenn Neely turned bullish after the S&P low in March. In fact, he is probably the ONLY Elliott Wave analyst in the world to do so.
On Sunday, April 5, 2020, Mr. Neely released TWO exceptional forecasts for the S&P 500:
Monthly chart (View the Monthly chart below)
Long-Term 1/2-yearly chart (View the Long-Term chart below)
It's important to note that Glenn Neely's Monthly chart was predicting the low AS it was happening.
When viewing the Monthly chart, note that the purple dashed line has projected the entire rally so far. The green line may take over soon. And keep in mind, when viewing the Long-Term chart (1/2-yearly), it predicts market action for the next 5-6 YEARS.
Glenn Neely adds,
"The last time the S&P structure was this clear was early 2008, right before my boldest, most accurate prediction EVER!"


See the S&P Forecast released January 21, 2008, below.
View Glenn Neely's NEoWave Forecasting newsletters below...
Glenn Neely's
Monthly
&
Long-Term (1/2 Yearly)
S&P Forecast were released to NEoWave Forecasting subscribers on
April 5, 2020
. And for comparison, Glenn Neely's S&P Forecast released
January 21, 2008
, predicting the crash of 2008-09.
MONTHLY S&P
Released April 5, 2020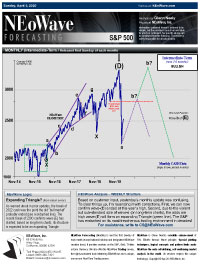 Download PDF
LONG-TERM S&P
Released April 5, 2020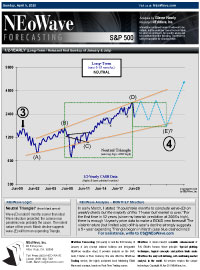 Download PDF
FOR COMPARISON
Released January 21, 2008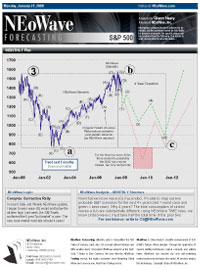 Download PDF
WANT TO FIND OUT WHAT COMES NEXT? Subscribe to NEoWave Forecasting service!
NEoWave concepts introduce logic to orthodox Elliott Wave, elevating it to a more scientific level.
Learn to apply advanced NEoWave concepts to orthodox Elliott Wave on real-time price charts. This educational service enables you to experience the application of NEoWave to short-term, intermediate-term, and long-term charts for the S&P, Gold, T-Notes or Euro.
NEoWave FORECASTING Service –
As low as $21/month
NEoWave Analysis by Glenn Neely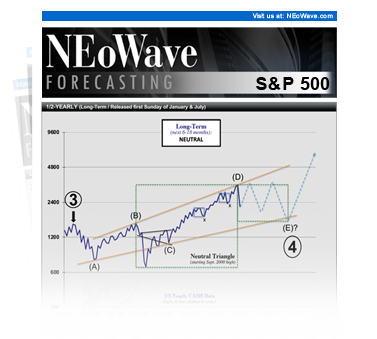 Choose from:
S&P, Gold, T-Notes or Euro
---
Follow Glenn Neely on social @NEoWaveTheory:
https://www.facebook.com/NEoWaveTheory
https://twitter.com/NEoWaveTheory
https://www.linkedin.com/company/neowave-inc