NEoWave Blog
3/20/2020 - NEoWave Staff
WHAT DOES THE FUTURE HOLD? Take a look at Glenn Neely's wave chart and forecast.
More than 2 weeks ago, in his monthly S&P update,
Glenn Neely warned that a break of 2822 cash would END the BULL MARKET. (See the March 1 chart, below.)
Since dropping below that level, the markets have COLLAPSED!
Take a close look at that S&P update, and you'll notice Glenn Neely's red note at the right side of the chart:
"Bull Market probably over if cash breaks 2822."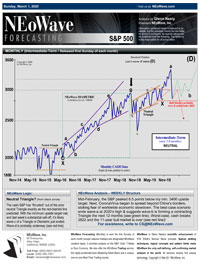 CLICK HERE to DOWNLOAD PDF
In the chart's notes, Mr. Neely goes on to say:
"Mid-February, the S&P peaked 6.5 points below my min. 3400 upside target. Next, CoronaVirus began to spread beyond China's borders, stoking fear of worldwide economic slowdown. The best-case scenario ends wave-a at 2020's high & suggests wave-b is forming a contracting Triangle the next 12 months (see green line). Worst-case, cash breaks 2822 and the 11-year bull market is over (see red line)!"
To find out what comes next, subscribe to NEoWave Forecasting service.
Click this link:
https://www.neowave.com/market-forecasting.asp
---
Glenn Neely is recognized by Timer Digest as the #1 S&P Forecaster for the last 6 months.
View his Timer Digest recognition at:
https://www.neowave.com/trading_performance-industry.asp
Follow us @NEoWaveTheory:
https://www.facebook.com/NEoWaveTheory
https://twitter.com/NEoWaveTheory