NEoWave Blog
3/12/2020 - NEoWave Staff
SPECIAL UPDATE: Impact of CoronaVirus on long-term S&P wave structure
Read Glenn Neely's advice, which he emailed to subscribers of NEoWave Trading and Forecasting services on Wednesday, March 11, 2020.
Due to today's break of 2710 in the cash S&P,
the S&P 500's 11-year bull market will soon end or has already ended.
For more details, please download & read the PDF file.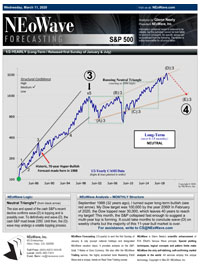 CLICK HERE to DOWNLOAD PDF
Not a subscriber to our S&P Forecasting service?
Keep up with this emerging new stock market trend -
click the link below...
https://www.neowave.com/market-forecasting.asp
---
Glenn Neely is recognized by Timer Digest as the #1 S&P Forecaster for the last 6 months.
View his Timer Digest recognition at:
https://www.neowave.com/trading_performance-industry.asp
Follow us @NEoWaveTheory:
https://www.facebook.com/NEoWaveTheory
https://twitter.com/NEoWaveTheory