NEoWave Blog
3/10/2020 - NEoWave Staff
U.S. STOCK MARKET AT PIVOTAL JUNCTURE
Read Glenn Neely's advice, which he emailed to subscribers of NEoWave Trading and Forecasting services on Monday, March 9, 2020.
The U.S. stock market is at its most crucial point in 11 years! Last week, I conducted a free online video presentation on the cash S&P, discussing its Wave structure and the 2 paths going forward.
With today's massive market meltdown, the S&P is "teetering on a fence." The situation is so crucial that I decided even non-customers (like you) should be prepared for what's coming.
Please read the Weekly S&P Forecasting service.
PDF link provided below.
To keep up with what's coming next,
subscribe to NEoWave Forecasting service at:
https://www.neowave.com/market-forecasting.asp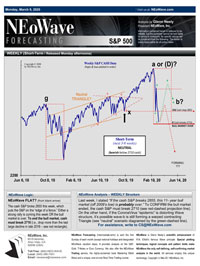 CLICK HERE to DOWNLOAD PDF
Sincerely,
Glenn Neely
NEoWave, Inc.
www.NEoWave.com
---
As Timer Digest's #1 S&P Forecaster the last 6 months, Glenn Neely can prepare you for what's coming!
If you are not a subscriber, use the link below to get NEoWave's Forecasting service right now.
https://www.neowave.com/market-forecasting.asp
Follow us @NEoWaveTheory:
https://www.facebook.com/NEoWaveTheory
https://twitter.com/NEoWaveTheory/